The partnership between Toyota and Subaru to develop the 86/BRZ has proved to be an imminently successful venture for both car manufacturers. It's got looks, power, efficiency and that admirable boxer rumble, but how does it stack up as a daily driver?
At first glance, you look at this car and straight away think "mid-life crisis". But that definitely is not the case. With 147kW of power at 7000rpm and 205Nm of torque at 6600rpm, this car packs a handful of power with a 118.7W/kg power to weight ratio. Yes, it lacks the extra punch of a turbocharger, but as declared by Subaru and Toyota, this car is made for a raw driving experience, something turbo lag cannot live up to. Further statements were made to say that the BRZ is made to be a lightweight sports car and the addition of a turbocharger would crank it up a few kg's. Even so, the BRZ has enough power to keep you smiling up until 7450rpm where it redlines.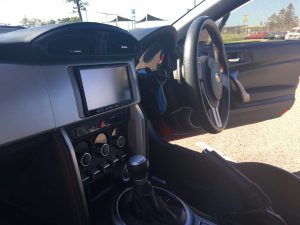 The gizmo's inside the stock BRZ are simply put, terrible. Lacking the colour display screen gives the standard BRZ a boring interior feel. But we reviewed the model with the Eclipse colour touchscreen, including Sat Nav, rear-view camera and bluetooth functionality. Finding an address took some time on the resistive touch screen GPS, which led me to pop my phone out and just use Google Maps. The rear-view camera is definitely a plus, with guidelines that help with parking. The bluetooth function is also a win for the BRZ. By the time I put the gear into Drive, the unit has already connected to my phone automatically, making playback and receiving phone calls incredibly easy. Air-con knobs are easy to use and look like kill switches in race cars, which is an added bonus for car enthusiasts. Dual climate is also available in the BRZ.
The tiptronic system is definitely helpful when wanting to shift down a gear or two to up those revs. Once you've dropped down those gears, it returns to being automatic without any hints. This contrasts to when the gear stick is pushed into "M", then you're on your own, but even so, as an automatic it won't let the car go passed redline. The automatic transmission is something Subaru should be proud of as gear changes are almost seamless and there is minimal feel of clunkiness when braking.
With its read-wheel drive setup, handling in the BRZ is impeccable. Going around tight corners at high speeds might lead to some oversteer, but with traction control off and sport mode on, that was the aim of this car. Imagine playing connect the dots, but the dots being corners, the BRZ will hit each dot perfectly. With its low centre of gravity, the driver will be sitting roughly 40cm above the road, allowing the BRZ to grip to the road like there's no tomorrow. But be careful in rain! With only 21.5cm wide tyres, don't count on maximum grip in the rain and keep traction control ON.
Driving this car definitely makes you feel like a spunk. As a daily drive, its suspension cannot handle everything and bumps in the roads will soon become annoying. More so, the enemy of the BRZ.. HUMPS! Driving straight on requires minimal speed, and driveways should be taken on an angle. But that's the price you pay for buying a 1.2 metre high sports car. It definitely can get annoying as a daily drive if you are driving more than 500 or so KM a week, but it's so worth it! With a combined figure of 7.1L/100 for the auto, this figure is astounding for a naturally aspirated 147kW engine. Tested in real life we averaged between 9-10L/100 with more city driving done, so expect to see sub 9L/100 figures if you are driving in the city all day. Attempted ergonomic seat design can get quite sore with its minimal cushioning, and full leather seats would indeed help, but we can't expect that from such a reasonably priced car.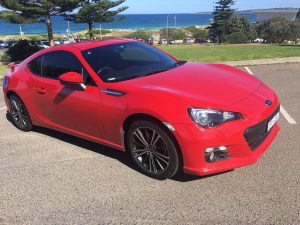 The Golf GTI and Focus ST can be classified as competitors, but packing all that power in a front-wheel drive cannot compare to the BRZ's zippy rear-wheel drive. Driving it hundreds of kilometres so far has given me a sense of joy due to the BRZ's incredible driving experience. Despite its mishaps with suspension and interior, it doesn't outweigh the design and feel of the BRZ. Yes, it can get annoying as a daily drive, but it is definitely worth it once you are in that drivers seat. For what it's worth, there is nothing better.