Renault and Red Bull are in the midst of their futile divorce, as Red Bull leaves Renault for Honda engines as of the 2019 Formula 1 Season (but I'm sure you already knew that).
The battle of wits between Renault and Red Bull has transpired throughout the entirety of the season. Verstappen has been incredibly critical of the Renault power unit, not shy to express his true dismay for the French manufacturer.
But Renault has just taken a cheeky stab at Max, grilling him in their travel blog prior to the Brazilian Grand Prix. Renault wrote the following, word for word:
"A party atmosphere is one similarity between Mexico and Brazil, with another being the sheer volume of people living in the two host cities. With a combined population of 20 million, which may or may not be equivalent to the number of times Max Verstappen has moaned about something this season, these two back-to-backs are physically HUGE."
The banter truly is real.. Max: your turn.
But don't take my word for it, here is a screenshot from Renault Sports website (see below for link):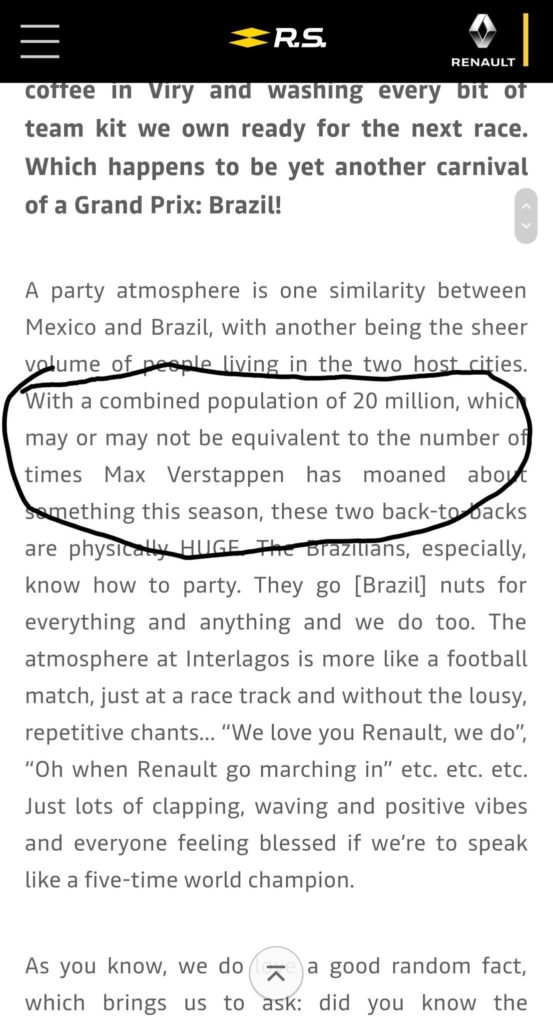 Here is the link to Renault's travel blog if you wanted to see it for yourself:
https://www.renaultsport.com/travel-blog-brazil-gp.html?r=331