Welcome to the weekly roundup of everything Formula 1! Here you will find a summary of the biggest news and announcements every week in the F1 world. Whilst Formula 1 is still fresh from its final race of the 2017 calendar season in Abu Dhabi, there has not been a lack of rumblings coming out of all corners of F1:
• Liberty Media Reveal New Logo For Formula 1:
New owners of Formula 1, Liberty Media, have not wasted any time in ushering in a new, fresh, modern era of F1, with perhaps the most noticeable and polarising change to date being the redesign of the historic F1 logo (seen in Featured Image). Reaction throughout the F1 community has been mixed, with some embracing the change and what it represents of F1, whilst others, including big names such as Lewis Hamilton, expressing their preference for the old design.
• Sauber F1 Enters Multi-Year Partnership Agreement With Alfa Romeo:
Alfa Romeo have marked their arrival into the modern era of F1 with a technical and commercial partnership with Sauber as a Title Sponsor from 2018 onwards. Perhaps most notably included in this partnership is 2018 Sauber's being powered by 2018 Ferrari power units, contrasting Sauber's lack-lustre 2017 performance largely due to being supplied with 2016 Ferrari engines.
• Sauber Announce Charles Leclerc for 2018:
Sauber further strengthen their ties with Scuderia Ferrari as Marchionne confirmed that Charles Leclerc, member of the Ferrari Driver Academy after a dominant F2 campaign, will be stepping into F1 to partner Marcus Ericsson in Sauber in 2018.
• Pirelli Announce New Tyre Compound Line-Up For 2018:
Pirelli have announced a new setup for tyre compounds in 2018 that will see a wider availability of potential choices for teams. The announcement comes after wide-spread feedback from the 2017 season suggesting tyres lasted longer than desired, leading to less pit-stops in a given race. (credit for compound guide to /u/Jibbed, Reddit.com).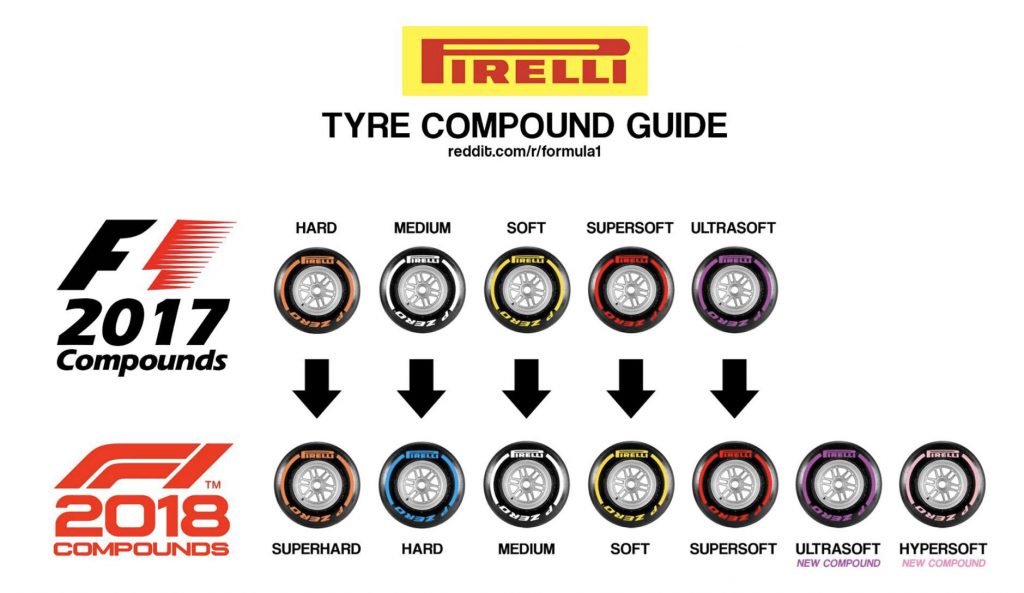 • Santander End Long-Running Partnership With Ferrari:
Santander announced it decided to end its long and historic partnership with Scuderia Ferrari, as well as F1, in favour of pursuing new prospects as partner to the Champions League. The partnership with Ferrari lasted for 8 seasons, leaving many questions regarding Ferrari's future direction in F1.
• Lance Stroll Reveals He Will Participate In Daytona 24 Hours:
The 19-year old Williams F1 driver announced he will compete in the IMSA SportsCar Championship opener on Janurary 27/28 in an ORECA-Gibson 07 as part of the Jota-run Jackie Chan DC Racing squad. Stroll gave a rationale for his decision to pursue the venture outside of F1 as he states that "sometimes it's nice to step back and do something that's a bit less high-pressure".
• Fernando Alonso Inducted Into FIA Hall Of Fame:
Fernando Alonso, McLaren F1 driver, recently shared via Instagram his induction into the FIA Hall OF Fame in Paris. The double World Champion is often regarded throughout the F1 community as one of the greatest Formula One drivers in the history of the sport,; a sentiment formally acknowledged by the FIA. The induction comes after a season which saw Alonso make waves throughout the motorsport world after his impressive display in the Indianapolis 500 2017.
And that wraps up everything in F1 for this week. Stay tuned next week for more from the F1 Weekly Roundup!