Welcome to Talking Torque's recap of pre-season testing at Circuit de Barcelona-Catalunya! It was an eventful eight days, with enough drama to whet our appetites ahead of lights out in Melbourne. Here's what you may have missed:
Test 1, Day 1:
Sebastian Vettel enjoyed a successful Day 1 of Testing at Circuit de Barcelona-Catalunya as he topped the field in Ferrari's new SF90. Trailing the former world champion were Carlos Sainz in the McLaren and Grosjean in the Haas. Max Verstappen took fourth position ahead of a rejuvenated Raikkonen.
Notably, Williams controversially confirmed they would not be participating in testing for at least the first two days. Claire Williams, Team Principal, expressed her disappointment as she said "…it is unfortunately the situation we are in."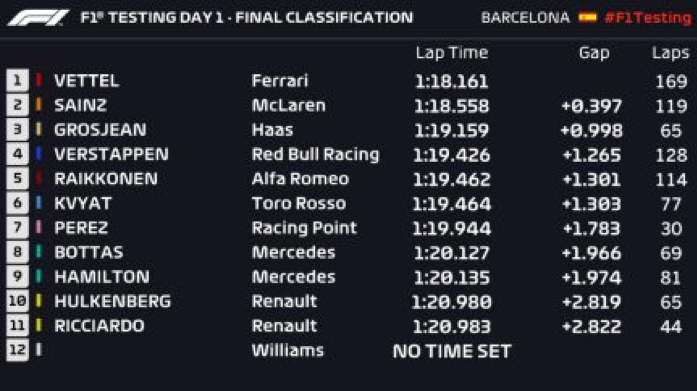 Test 1, Day 2:
Day 2 saw Charles Leclerc impress in his first outing for Ferrari. McLaren and Haas consolidated their strong showings in Day 1, with 2nd and 3rd position occupied by Lando Norris and Kevin Magnussen, respectively. Ricciardo has a moment to forget as a his rear-wing was separated from the car, causing Ricciardo to narrowly miss the barrier. His replacement at Red Bull, Pierre Gasley, also had a momentary scare as the back of his car lost grip and sent him into the barriers.
Williams absence was again felt as they were not able to run in day 2 of testing, as previously indicated.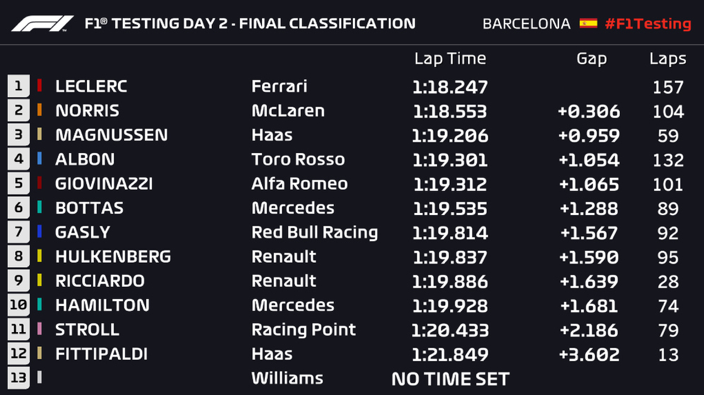 Test 1, Day 3:
Toro Rosso, Alfa Romeo, and Red Bull put in the most laps of Day 3, with Kvyat edging Kimi to top the field. Williams were finally able to get the FW42 on track as George Russell drove 23 laps. Red flags were issued due to Haas cars as an issue with their ignition coil stunted the progress of Pietro Fittipaldi and Romain Grosjean. Mercedes continued to fly under the radar during testing, many raising an eyebrow and suggesting the sand-bagging games have already begun. Bottas stated Ferrari look very strong, however he is not worried about their pace.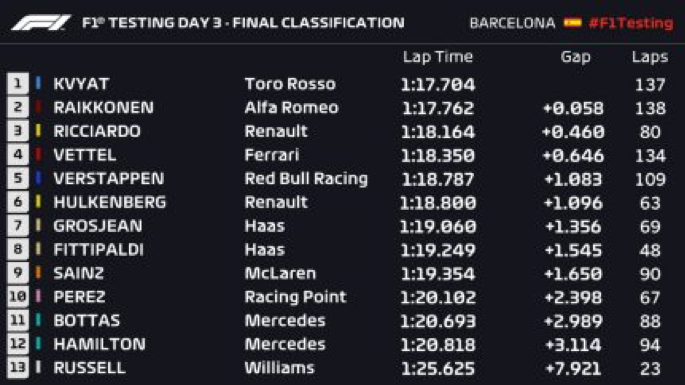 Test 1, Day 4:
Nico Hulkenberg shocked the grid as he came from the lower-half of the field from previous days testing to take top with just 24 laps. Red Bull put in another volumous effort, going 146 laps, following by Ferrari, McLaren and Toro Rosso. Despite the highs of top lap-time, his R. S. 19 had to stop due to an undiagnosed issue. Mercedes pushed harder on Day 4 to take 4th and 5th, as they trailed Albon in the Toro Rosso and Ricciardo in the Renault. Williams rounded out the bottom of the grid with 17 laps for Russell and 48 laps for Kubica.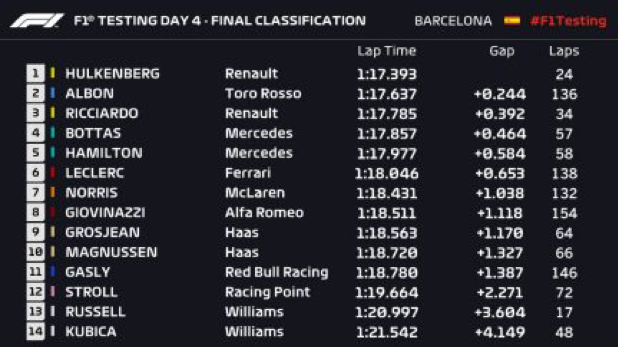 Test 2, Day 1:
Day 1 of Test 2 saw an eventful turn of events as Lando Norris took spot in the time sheet. Gasly and Stroll rounded out second and third, respectively, whilst Bottas only completed 7 laps compared to Lewis' 83. This gap is attributed to an oil pressure issue in the W10, which saw Bottas forced to pull to the side and abandon the car.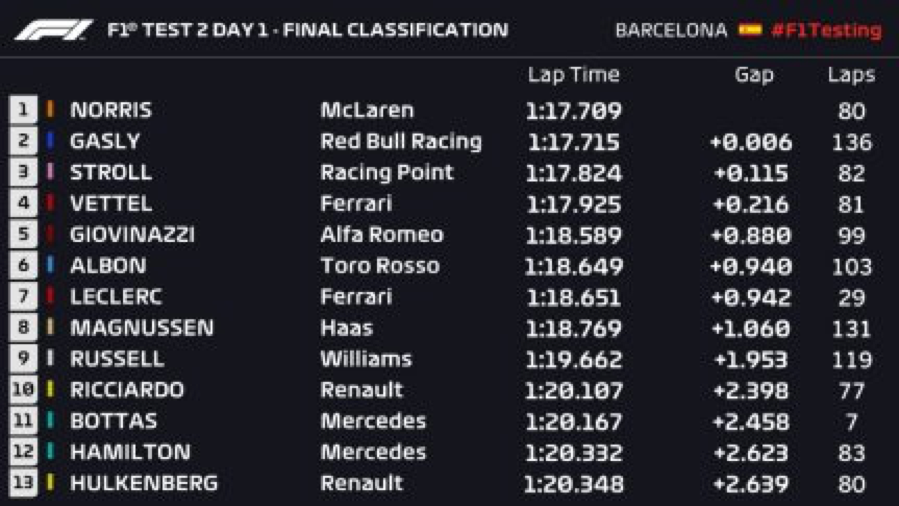 Test 2, Day 2:
Carlos Sainz in the McLaren shockingly topped the time sheets for Day 2 of Testing. Sebastian Vettel, however, was the story of the day as he dramatically went into the barriers at Turn 3 with a wheel rim issue. Ferrari's rivals Mercedes tallied 174 laps between their two drivers on Wednesday, whilst Leclerc only completed one lap in light of Vettel's issues. Mercedes ran with a series of updates to the W10, showing real intent from the Silver Arrow.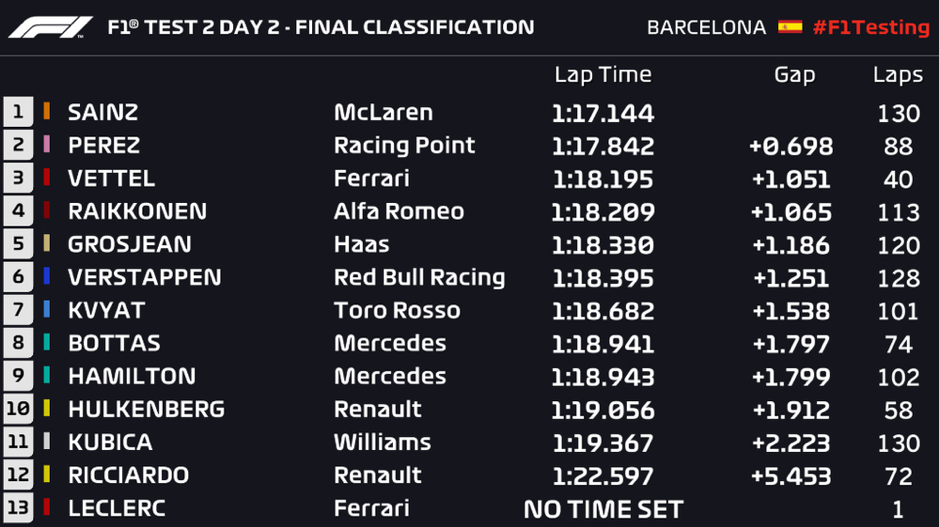 Test 2, Day 3:
Charles Leclerc was heavily involved in Day 3 of Test 2 putting in 138 laps and topping the timesheets. Despite Leclerc's success, however, he was forced to stop as the SF90 spewed smoke from the rear. Williams was also able to put in a solid shift after a dismal start to pre-season testing, as they clocked up 140 laps through Russell. Pierre Gasly suffered a heavy crash after a driver error. Gasly described the crash as "one of the biggest" he's had so far. Leclerc's and Gasly's red flags were accompanied by a red flag from Lance Stroll as the Williams driver was stranded in the middle of the circuit. Additionally, Romain Grosjean was forced to an early end in Day 3 as Haas detected an exhaust issue in the VF-19.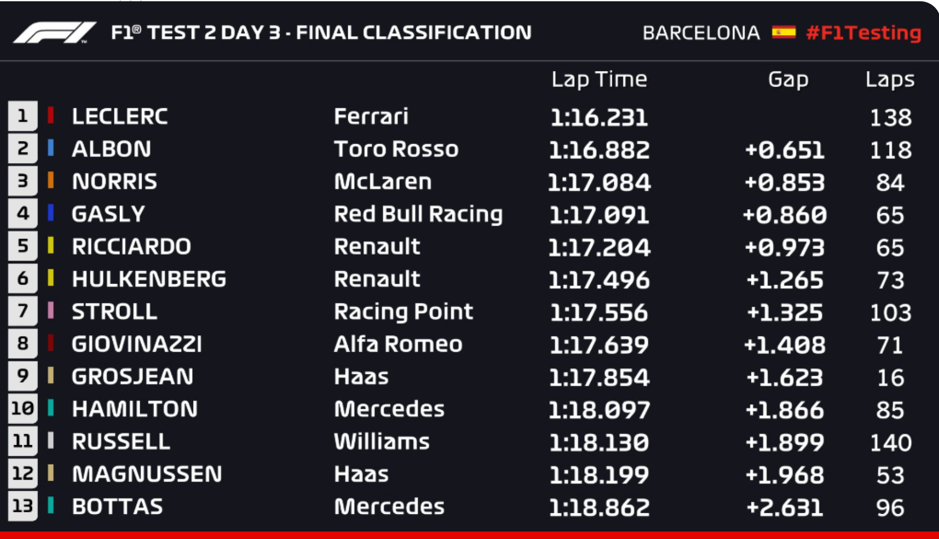 Test 2, Day 4:
The final day of testing was particularly intriguing for the neutral as Mercedes and Ferrari reminded the world why there are arguably the two teams who will define the title battle for 2019. Vettel was able to pip Hamilton by 0.003 seconds to claim top spot (albeit with nearly double the laps). Following Gasly's heavy crash on Day 3, Max Verstappen's final test day was compromised following a gearbox issue. Verstappen said "It is related to the crash yesterday. We did [change the gearbox]but you're always limited with the parts you have in testing".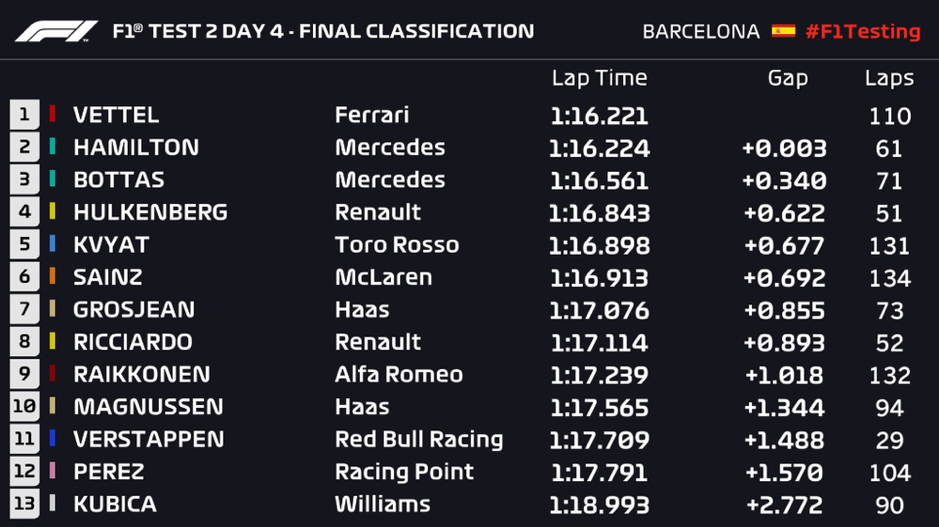 And that wraps up pre-season testing. We'll see you all in Melbourne!