With the first race done and dusted, Sebastian Vettel has claimed the first P1 of the season! With so much action down in Melbourne, here are your key takeaways!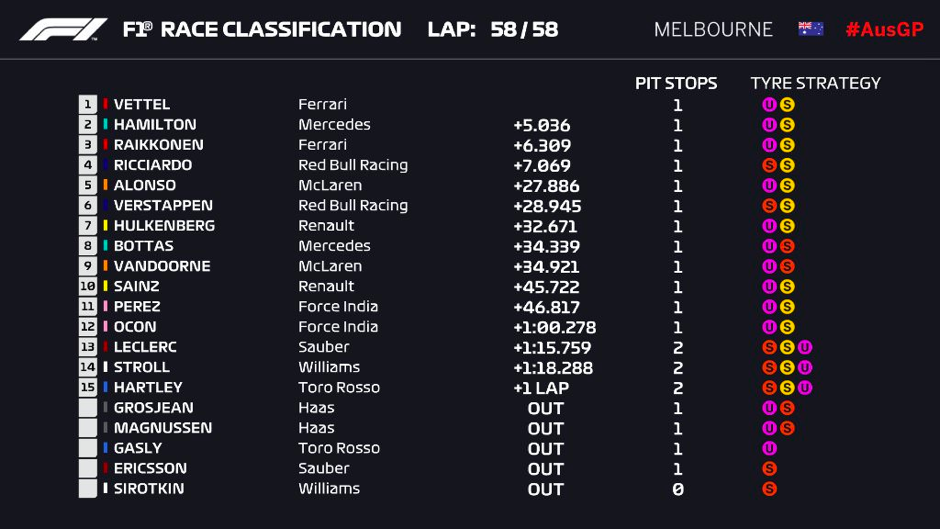 • Vettel Capitalises On Virtual Safety Car:
Vettel seized an opportunistic window when the virtual safety car was in effect, allowing him to gain track position ahead of Hamilton and maintain this for the rest of the race. This has caused immediate discussion regarding the nitty-gritty rules of a virtual safety car, with some suggesting it is objectively beneficial to go through the pits every lap in order to gain an advantage. We will see if the FIA have a response.
• Ricciardo Claims P4:
After a turbulent weekend for Daniel Ricciardo, which saw a 3-place grid penalty, the honey-badger was good enough to make up 4 positions and claim P4. Unable to overtake Raikkonen in the last quarter of the race, the Australian can be proud of a solid effort, with an additional silver-lining of finishing ahead of Verstappen.
• Honda Engines Fail To Deliver (Again):
Toro Rosso are left frustrated figures after Gasly's Honda-supplied engine fails to last the whole race. Many questions Red Bull's decision to align with Honda after their controversial partnership with McLaren, and it appears there is still some fine-tuning that will need to be performed as the season progresses. It's worth nothing, however, that Hartley did last the whole race, which can give some hope to the Toro Rosso faithful.
• Alonso/McLaren Soar in P5:
Fernando Alonso and McLaren have had a Melbourne GP to remember, securing P5 (with Vandoorne in P9). Alonso fought off a hungry Max Verstappen with a calm, composed, professional drive, reminding the world what a gem of a talent he has always been. An emotional Alonso after the race thanked his team over the radio and declared his intentions to be competitive for the season ahead.
• Bottas Struggles:
Valtteri Bottas has backed up a disappointing qualifying showing with an uninspiring performance on race day in Melbourne. The Finn was only able to claim P8 after starting from P15. Many struggled to overtake during the race, and this was evident as Bottas was unable to soar through the field like many Mercedes have in previous years. Whether this was a one-off for Bottas, and by extension Mercedes, or if this is a sign of things to come remains to be seen, however what is known at this point is Bottas is not playing catch-up with the rest of the top of the grid.
Well, that's all from us in Melbourne, it's good to have F1 back! Stay tuned for more F1 to come.