Daniel Ricciardo.
Honey Badger.
The man down under.
Ricci.
Danny.
Dan The Man.
Whatever your preferential name for the Aussie man, now is the time to start cheering it louder than ever.
2018 Monaco Grand Prix. What we witnessed last night is perhaps one of the most outstanding performances in Formula 1 history, a performance we will never forget. For those new to the scene, or those that missed out on the events that transpired last night, here is a little recap of how it went.
Daniel had been blazing through the entire weekend:
– Free Practice 1: 1st
– Free Practice 2: 1st
– Free Practice 3: 1st
– Qualifying 1: 1st
– Qualifying 2: 1st
– Qualifying 3: 1st
Needless to say, his pole position had put him in a comfortable spot to win the race. But wins don't come easy for the Australian and Red Bull Racing. As the race began, Daniel pulled away safely and began opening his gap to second placed Sebastian Vettel, eventually leading by up to 5+ seconds. The race was his to lose. Nothing was stopping him, this was his time. His chance to redeem himself from his 2016 Monaco heartbreak. But then.. we heard the most heart aching radio calls of all time, "Losing power.. Losing power". For any Red Bull fan, we knew immediately this meant Daniel's race was over. Done. Dusted. Finished. No points. But boy were we wrong..
With 50+ laps to go, Ricci had the impossible task of nursing his wounded car to the end. On each of the straights, Vettel had up to 30kmh more pace than Ricciardo, WITHOUT DRS enabled. Needless to say, Ricciardo was a sitting duck and Vettel was ready to pounce. But what we witnessed was truly remarkable. With ultra soft tires that lasted almost 60 laps, Ricciardo managed to hold off Vettel for the entirety of the race, not letting him take his lead for even one moment. Radio calls went back and forth to the Red Bull crew again and again, Ricciardo asking how he can help, how he can prolong his existence at the Monaco GP. Prolonging gear changes, taking corners more efficiently, braking later, Ricciardo did it all. Thanks to the Red Bull chassis, he held up just fine.
Ricciardo had the focus of a lion hunting its prey and did not lose his concentration for even one moment. Ricciardo had no right to win that race after his engine issues. The poor bugger didn't even have 7th or 8th gear. The man was literally driving a car with 25% less power than everybody else on the track. At one point, his lap times were equalling the bottom 2.. So not fast at all. This eventually led him to bank up 2nd, 3rd, 4th and 5th who all could have had a dig at him, despite Monaco's difficulty at overtaking. But nobody did. Ricciardo went on to win the Monaco Grand Prix after a nerve-racking, heart-attack causing, anxiety provoking race. I have never heard Christian Horner (Red Bull Team Principal) as animated as he was after that race.
Repeating the wise words of Dr Helmut Marko:
"Nobody else could have done what he did today"
The scenes in Monaco yesterday were truly and utterly remarkable. That brings Ricciardo in with 2 wins out of 6 races. Ricciardo also happens to have 2 DNF's this season so far. This means that he has WON 50% of the races he has finished. Furthermore, had Max not stupidly caused him to crash, along with the 'brutal retirement' in Bahrain, Ricci could potentially be leading this championship.. In a Red Bull. This man is coming 3rd in the Drivers Championships as we speak.. In a Red Bull. I am not saying the Red Bull is necessarily a bad car, but contrasting to the likes of Ferrari and Mercedes, he has no right to be as successful as he is right now. But he is.
Give Hamilton, Vettel, Raikonnen or Bottas the same tools that Ricciardo has right now and I assure you they will not be doing anywhere near as good as the man from down under. Max Verstappen, tipped to be the next Schumacher hasn't even been able to show any promise with this same car. He is not a rookie anymore. 56 race starts he has, with plenty of time to show his worth, but what has he done in return – 6 crashes in 6 races. Daniil Kvyat was given far less leeway when he was at Red Bull. We need to start accepting Max for what he is: dangerous and unreliable; and accept Ricciardo for what he is: the best driver on the grid without hesitation.
Ladies and gentlemen. Daniel Ricciardo. The greatest driver on the grid.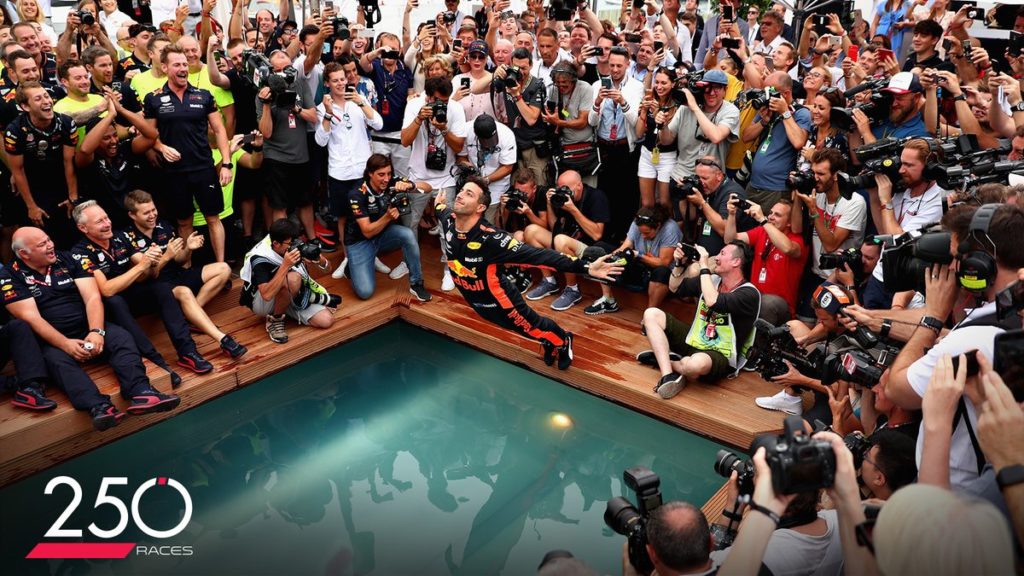 Dan jumping into the swimming pool after his win, as promised. Photo Source: Red Bull Racing.
Featured photo source: AP.
MONACO RACE RESULTS
1. Daniel Ricciardo, Australia, Red Bull Racing Tag Heuer, 78 laps, 1:42:54.807, 25 points.
2. Sebastian Vettel, Germany, Ferrari, 78, +7.336 seconds, 18 points.
3. Lewis Hamilton, Britain, Mercedes, 78, +17.013, 15 points.
4. Kimi Raikkonen, Finland, Ferrari, 78, +18.127, 12 points.
5. Valtteri Bottas, Finland, Mercedes, 78, +18.822, 10 points.
6. Esteban Ocon, France, Force India Mercedes, 78, +23.667, 8 points.
7. Pierre Gasly, France, Scuderia Toro Rosso Honda, 78, +24.331, 6 points.
8. Nico Hulkenberg, Germany, Renault, 78, +24.839, 4 points.
9. Max Verstappen, Germany, Red Bull Racing Tag Heuer, 78, +25.317, 2 points.
10. Carlos Sainz, Spain, Renault, 78, +69.013, 1 points.
11. Marcus Ericsson, Sweden, Sauber Ferrari, 78, +69.864s.
12. Sergio Perez, Mexico, Force India Mercedes, 78, +70.461s.
13. Kevin Magnussen, Denmark, Haas Ferrari, 78, +74.823s.
14. Stoffel Vandoorne, Belgium, McLaren Renault, 77, +1 Lap.
15. Romain Grosjean, France, Haas Ferrari, 77, +1 Lap.
16. Sergey Sirotkin, Russia, Williams Mercedes, 77, +1 Lap.
17. Lance Stroll, Canada, Williams Mercedes, 76, +2 Laps.
18. Charles Leclerc, Monaco, Sauber Ferrari, 70, did not finish.
19. Brendon Hartley, New Zealand, Scuderia Toro Rosso Honda, 70, did not finish.
20. Fernando Alonso, Spain, McLaren Renault, 52, did not finish.